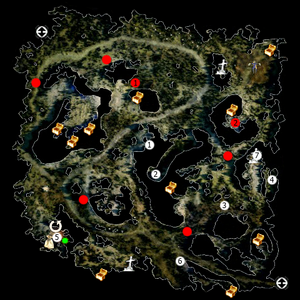 Points of Interest
Edit
| # | Location |
| --- | --- |
| 1 | Excalibur |
| 2 | Wishing Well |
| 3 | Broken Wagon |
| 4 | Lost Merchant |
| 5 | Romany Camp |
| 6 | Hanged Man |
| 7 | Sacred Shrine |
| 8 | Nameless Wisp |
| 9 | Wandering Ghost |
| 1 | Snowpelt |
| 2 | Lesovik Methusetah |
| | Chests |
| | Shrine |
| | Scarecrow |
| | Area Transitions |
| | Store |
| | Skill Reset |
| | Enchanter |
| | Veteran Enemy |
Wandering Ghost
Edit
If you talk to the ghost after having visited the Hanged Man (6) or the Sacred shrine (7) you will be able to ask Lady Katarina to make the ghost follow you.
If you take him to the sacred shrine he will thank you for helping him realize what happened and disappear dropping some rare items.
If you take him to the hanged man he will become a vengeful spirit and attack you dropping the same amount of items after his defeat.